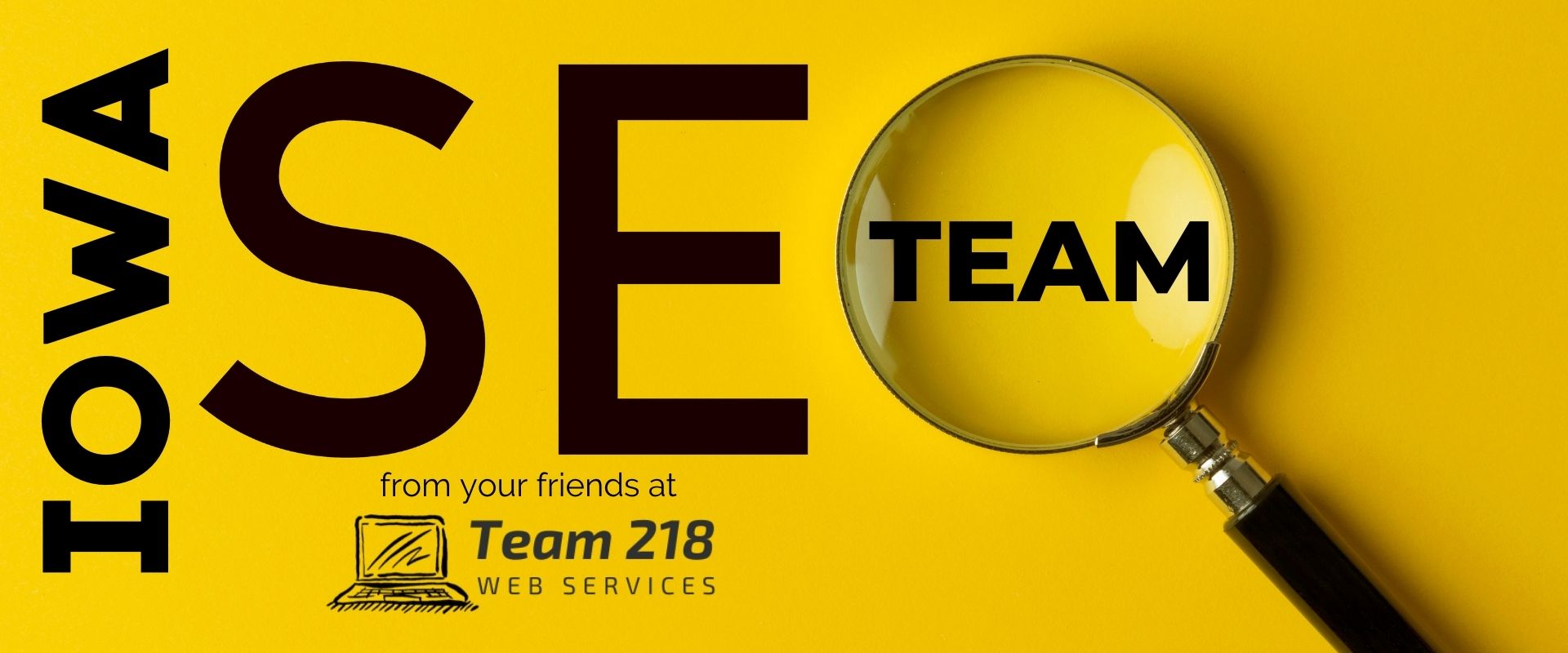 IOWA SEO TEAM | Search Engine Optimization
More than 2.4 billion people use the internet every day? 90% of those have purchased something, or contacted a company online in the last 12 months! Will they find you?
Need help with your SEO? Pound that button!
Get Help With Your SEO
If you need help with your SEO please Contact Us. Even if you just have questions, we'd love to hear from you. We love helping business owners and entrepeneurs with their internet marketing and website issues.
Iowa Search Engine Optimization
Internet marketing is a broad term that includes anything from search engine optimization to social media management. With such a wide variety of tasks, it can be difficult for small business owners to understand what they need and how to effectively use the services available. That's why we're here!  As an SEO agency, we have over 10 years of experience in search engine optimization so you can focus on your business while we take care of the rest.
Website Audit: This is where we find out all the details about your website including: What web host you are using, any errors in links or coding, whether or not your website is mobile-friendly, and much more. This is an important step in the process and often times, we will recommend changes to your site (if needed) before we move on to anything else.
Website Speed: How fast your website loads is one of the biggest factors in determining whether or not your website will be a success. You would be surprised at how many website speed problems we come across every day. Poorly coded websites, poorly written sales pitches, pop-up ads, and more can all cause a significant decrease in the speed of your website. If your website is really bogging down, we will tell you immediately and give you options for fixing the problem.
Website Positioning: This is where we help you identify the specific groups of people who are most likely to buy from you. We do this by looking at things like the types of searches people make when they are looking for something related to what you sell, the geographical location of your customers, and much more. Once we have identified these groups of people (called "segments"), it is then up to you to decide how to market to each of them.
Website Structure: The next step is to take a look at how your website is structured. Are all your pages linked together in a logical manner? Is there a clear progression from one page to the next? Are all your links "natural" or did you have to use JavaScript to make some of them work? Did you use tables for layout or did you use CSS? Are all your images linked to where they are supposed to be? Is your site easy-to-read and easy-to-navigate? If not, we tell you which parts need the most attention.
Site Speed: The last (but not the least) of our checks is site speed. As I mentioned earlier, there are lots of ways people use Google to find things online. If your site isn't fast, it will be "crawled" much less often than a website that loads quickly. This means fewer people will click on your ads, fewer people will buy from you, and you will lose more traffic than you would otherwise have. In fact, according to Alexa, the average time it takes a person to load a web page is 8.6 seconds. That's nearly 10 times longer than it should be!
Whether you are just starting out or already have an online presence, our team will help grow your customer base by finding new ways to achieve your goals through various tactics including content creation, link building, social media campaigns, schema markup, and more! Enhance your existing marketing strategy with SEO.
Iowa SEO Agency | SEO Services
Did you know that local SEO is the #1 ranking factor for Google? It's time to start thinking about how your business will rank on Google and what you can do to grow your online presence. The first step is understanding what local SEO means for businesses. Local SEO is a set of tools and techniques that can help small businesses in any industry improve their rankings with Google Maps and other search engines. It includes things like creating citations by using sites such as Yelp or TripAdvisor, managing reviews through platforms like Facebook or GMB, submitting press releases and articles related to places near where they're located.
Iowa SEO Services | BUILDING BRAND AWARENESS
Regardless of the type of site you have, SEO needs to be a part of it if you want to add to your marketing strategy, attract more visitors and build brand awareness. Our SEO agency can perform a site audit to inspect the SEO aspects of your business. We will review your site for free and tell you how you could improve. Use our Free Website Audit Form and we'll take it from there.
Search Engine Optimization should be one of the primary considerations during the planning stages of your website. Organic SEO is comprised of the process and techniques used to obtain a natural placement on organic search engine results pages. There are a few variants to SEO – Organic or on-page SEO, Local SEO, PPC to name a few. Your organic SEO efforts should target your focus keyword or keyword phrase, long tail keywords, meta title, meta description, title tags, anchor text, content, and overall user experience. You need to understand your potential audience's search intent. When you build your webpage, the structure should be able to answer a question or solve a problem for your user. Provide quality information and make sure that information is accurate and factual. Take full advantage of the tools Google provides to analyze and test your web pages. Google Search Console and Google Analytics are must haves and the industry standards for SEO. Remember Google loves Google so the more you make use of their products the better.
Organic SEO
Organic SEO is the process of optimizing your website for search engines so that it ranks higher in organic listings. Organic SEO is a long-term strategy, and it's important to work on your website content now to get the most out of this technique.
This type of SEO refers to the process of optimizing your own website so that it ranks highly for certain keywords without having to spend money on ads or links from external sites. Organic is referring not only to natural but also free and ethical methods used by businesses looking for better visibility online.
There are many benefits to working "organic" rather than using paid techniques to gain visibility and traffic. You can use these free techniques to make a big difference in your site's rankings, even if you are just getting started with SEO. In fact, there are some basic things you can do right now to make a noticeable difference.  Many people believe they don't need to do any type of SEO because their site is already listed at the top of the results page when someone types a search phrase into a search engine. But that's not necessarily true. There are two main reasons people do not appear in the organic results: One, they don't search often enough or they don't include relevant keywords in their searches. And two, their site may not be optimized for maximum visibility. You know what? It seems to me that many people do know that there is a lot you can do for free to increase website visibility… but they simply don't do it! Why?
Because it's not easy. It takes time. It's work. But it will pay off big time in the long run. So, let's get started.  Here are some things you can do right now to make a noticeable difference in your site's organic rankings, enhance your marketing efforts, and grow your sales:
Write unique meta descriptions for each page on your site. Make each one different and specific. Don't use the same description for more than one page.
Write unique titles for your web pages. Use the title to describe the page to someone who hasn't read it. Make each one unique and specific. Don't use the same title for more than one page.
Use the keyword(s) that appear in the most frequently searched for words in your website content. Use the same or related keywords in all the meta tags for that page. Use the exact phrase "keyword(s)" in your page's content, not just the word "keyword."
Post new content to your site on a regular basis. Add a new section on your site on a regular basis.
Organic SEO Key Components
Title Tags (50-60 characters – include keyword(s))
Meta Description Optimization (160 characters max – include keyword(s))
Header Tag Optimization (use keywords naturally)
Image Optimization (always include unique alt text and title)
Internal Linking
External Linking
Body Content Optimization
Schema Markup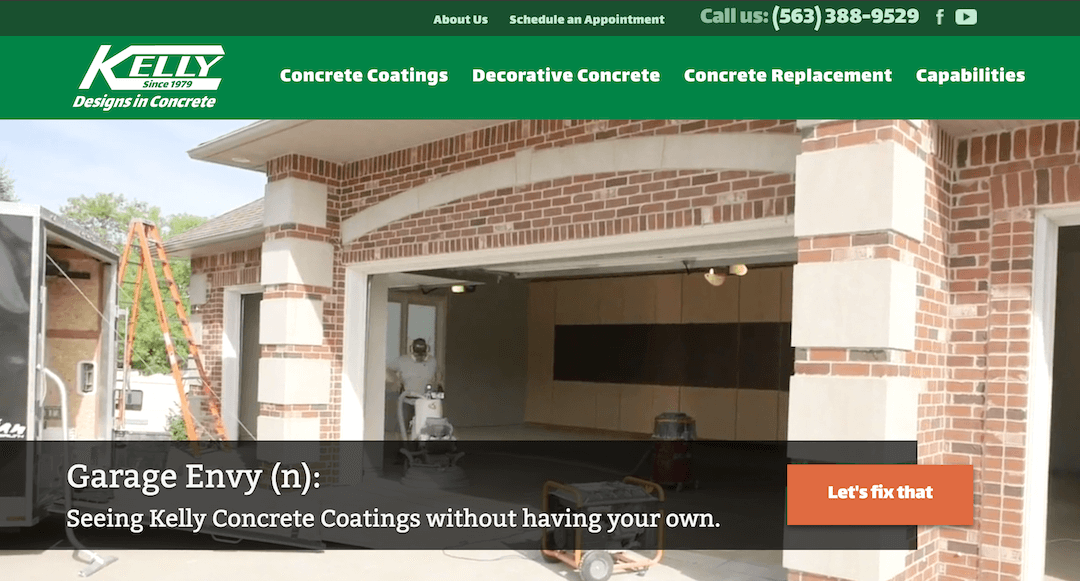 "Working with Team 218 has been a refreshing change from the "marketing" style website services I have used in the past. Their responsiveness, attention to detail and follow through are top notch. Thanks for all your great work!"
Kyle Kelly
Kelly Designs In Concrete
SEO Company | We Can Help With Your Website
SEO is a constantly changing landscape. If you are not an expert in search engine optimization, it can be hard to know where to begin or what the best practices are. If you need some help, we can guide you with your SEO journey. I would be happy to review your situation and explain our SEO services. Contact us today!